OZO consults&maunfactures the best and most appropriate moisture absorption,
desiccant from industrial and export use to food and the domestic use.
Correspond to both slow and rapid absorption.
OZO can dispense integrant matched to the distribution condition such as characteristics of goods and transportation. You can choose most appropriate moisture absorption speed.
 
Made from seawater minerals,OZO is safe and natural.
OZO is a unique non-combustible hygroscopic desiccant made from specially treated seawater minerals. It is safe to eat. OZO is certified by Japan Food Research Laboratories as having less arsenic, and heavy and precious metal contents than the food additive standard.
Outstanding 180% moisture absorptivity downsizes transport.
OZO's moisture absorptivity is 6 to 7 times more than commercially available hydrated desiccants (silicagel). As shown in the following test results, 10 grams of OZO increases its weight to 28 grams in five days by absorbing 18 grams of moisture (i.e. 180%moisture absorptivity), thus enabling transport packages inside and outside Japan to be downsized.
OZO exerts powerful absorbing and drying capacity even in sub-zero temperatures.
The most distinctive feature of OZO is its powerful hygroscopic capacity regardless of temperature difference.
OZO maintains stable hygroscopic capacity from room temperature up to minus 20 degrees Celsius.
OZO helps maintain the quality of packaged contents in severe environments by preventing dew condensation in very cold areas and desiccating in hot and humid tropical areas. It is a highly reliable hygroscopic desiccant throughout the year.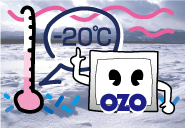 Environment-friendly natural materials enable zero-emission recycling.
Any type of OZO is collectible and recyclable. Including packaging, OZO emits almost no toxic gas. By removing the outer bag, OZO transforms into its original powder form at 600°C or more and returns to the soil with no pollution. The outer bag can be incinerated as combustible garbage.
According to the usage, flavoring is available.
Flavoring is freely available according to the usage such as home dehumidifier, deodorant.
We will help you designing appropriate packaging to meet the needs of goods.
To make use of a moisture uptake and dry power of OZO by 100%,We will help a best packaging and the transportation design, corresponded to the amount of package, transportation, and the circulation condition of the goods.
OZO chemically removes moisture and completely prevents develop- ment of rust and mold.
Contrary to commercially available moisture-absorbing (silica gel) or deliquescent (calcium chloride)hydrate desiccants that only transfer water (moisture)inside a package, OZO completely absorbs water (moisture) and chemically converts it to other substances.
The absorbed moisture is crystalized into water and never released again, completely preventing development of rust, microbes, or leakage by dew condensation, so effectively maintains product quality during storage and transportation.
Meanwhile, as OZO expands and solidifies while absorbing moisture, you can quickly identify its effect and replacement time.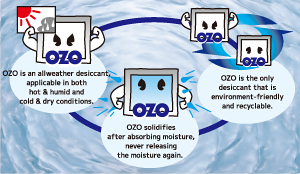 Various applications:
OZO is used in various fields.
OZO's outstanding moisture absorptivity, never achieved by conventional hydrate desiccants, enables complete dehumi- dification and economical and simpler quality control.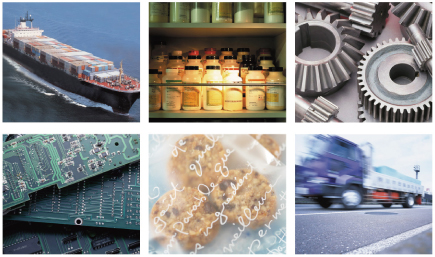 Various applications, including long-time maritime transportation near the equator, long-time storage of precision electronic devices and medical supplies.
| | |
| --- | --- |
| Industrial materials | Rust prevention of parts, materials, and facilities in automobile, consumer electronics, and machine industries |
| Electronics and precision equipment | Rust prevention of ICs, LSIs, SSDs, HDDs, etc. |
| Foods | Storage and prevention of mold for general foods, and prevention of ticks and microbes for health foods and imported foods. |
| Transportation and logistics | Inter-factory transportation, domestic transportation, and export packing. |
| Medical and pharmaceutical | Storage and preservation of medical supplies, medicines,herbal medicines, etc. |
| Commerce | Storage and preservation of art, fur, musical instruments, cosmetics, powdered flavors, dyes, books, and paper products. |
| General household items | Mold prevention in closets, chests, clothing storage boxes, kitchen shelves, and food storage. |